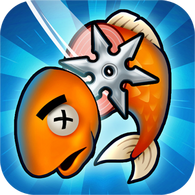 Ninja Fishing is a fishing game, developed by Gamenauts and Menara Games. It includes 4 stages: Cast your line, Catch fish, Slice fish and Buy upgrades. The player can customize the katana blade, as the upgraded katanas have more slicing power and one exclusive blade can even slash through dynamite. The player must keep an eye on the explosive items. Also the lines and weights are customizable, as more fish is found with these upgrades.
The game originally costed $0.69, but then became free. There is also a lite version of the game, which is much smaller than the original game. The game's main character is a large ninja called Otoro, who fishes for the marine life, gives advice to the player, or just says pop-culture-based phrases.
Gallery
Screenshots
Concepts
Videos
Ad blocker interference detected!
Wikia is a free-to-use site that makes money from advertising. We have a modified experience for viewers using ad blockers

Wikia is not accessible if you've made further modifications. Remove the custom ad blocker rule(s) and the page will load as expected.