Turtle

Turtle Trophy

Fish Number

8th

Shallowest depth found

???

Deepest depth found

???

Worth

25 coins

Color

Green

Previous Fish

Next Fish
Turtle is the eighth fish found in Tranquil Sea based on the Green Sea Turtle. It is found at 290 - 490 meters depth. The turtles are worth 30 coins. There is a counterpart in Dino Island called Spiny Turtle. It takes two slicing powers to kill it, if using a katana with a Muramasa blade.
Strangely enough, turtles are actually reptiles despite their classification of being a fish.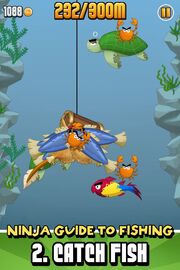 Ad blocker interference detected!
Wikia is a free-to-use site that makes money from advertising. We have a modified experience for viewers using ad blockers

Wikia is not accessible if you've made further modifications. Remove the custom ad blocker rule(s) and the page will load as expected.